There isn't a Biggest Story for Today, yet.
There isn't content right now for this block.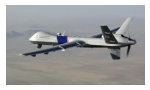 By Stephen Lendman
June 15, 2011

Defense contractor giants like Boeing, Lockeed Martin, Northrop Grumman, and others, as well as smaller rivals compete for growing demand for unmanned aerial vehicles (UAVs). They include remote control operated killer drones, also called unmanned combat aerial vehicles (UCAVs).

It's America's newest sport. From distant command centers, far from target sights, sounds, and smells, operators dismissively ignore human carnage showing up as computer screen blips little different from video game images. The difference, of course, is people die, mostly noncombatants. More on that below.

There is a problem right now with this block.