Ethiopia joins Bush's imperialist crusade
Date: Thursday, January 04 @ 14:02:06 UTC
Topic: Somalia



by Charlie Kimber, socialistworker.co.uk
January 04, 2007

The recent Ethiopian invasion of Somalia is a direct product of the US-British "war on terror". It threatens to further destabilise a region which has repeatedly been torn apart by war and famine.

Ethiopia's rulers ordered the war on behalf of George Bush in order to prosecute their own regional interests, to deflect Western criticism of their own repressive regime, and to collect the pay off from being a top US ally in a strategically crucial area. Somalia is just across the Gulf of Aden from Yemen and Saudi Arabia.

But the rejoicing in Ethiopia and the US at the defeat of the Islamic militias in Somalia may prove short-lived.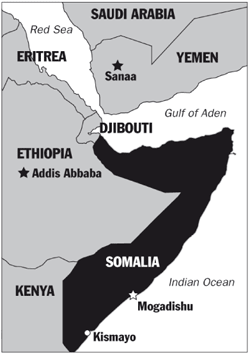 Certainly Bush does not feel secure. He has already prepared for the next phase of fighting by phoning Uganda's president Yoweri Museveni, urging him to send his troops to Somalia. Kenya's forces are also on stand-by.

The background to the invasion is the takeover of almost all of Somalia by the militias of the United Islamic Courts (UIC) last year. The militias drove out the warlords who had dominated Somali politics for the last 15 years.

The militias' victory was based on genuine popular support. Many people were weary of the violence and brutality of the warlords' rule. In addition several key leaders of Somalia's clans were prepared to back the UIC in order to stabilise the country.

The UIC's success was a blow to US plans for the region. The Bush regime had been growing ever closer to those warlords who were prepared to act as agents in the "war on terror".

The bloody record of these warlords, and the fact they had bitterly divided Somalia, were forgotten – so long as they would boost the US presence in the region.

Takeover

The UIC's takeover was also a defeat for Somalia's "transitional government", formed in 2004 in Kenya after long peace negotiations. This was a government in name rather than fact.

As even the BBC says, "President Abdullahi Yusuf's administration, made up of former warlords, often struggled to control its own members, let alone the country. Its first 18 months in office were spent squabbling about where to set up its base, eventually settling on the town of Baidoa as the capital, Mogadishu, was considered too dangerous."

The US and the transitional government vowed to destroy the UIC, and the Ethiopian government of Meles Zenawi was the chosen instrument.

Meles has long been a favourite of the West. He was part of Tony Blair's Commission for Africa in 2005 and supports the march of neoliberalism across the continent.

Ethiopia was one of only two African countries named as part of the US's "coalition of the willing" supporting the invasion of Iraq in March 2003.

For all the West's denunciations of repressive African governments, Meles's crimes have been strangely overlooked. Attacks on students' and workers' demonstrations during the 2005 elections, removal of basic democratic rights and much else received only the mildest rebukes from Britain and the US.

In July, when the US and Britain backed the Israeli invasion of Lebanon, Meles felt able to send his troops across the border into Somalia. And since then Ethiopian troops have been testing the ground for a complete offensive.

Last week Meles ordered a full scale invasion backed by thousands of troops, heavy artillery, tanks and aerial bombing. On 26 December US officials proclaimed the Bush regime's support for the invasion, claiming that Ethiopia had "genuine security concerns".

Ethiopian forces did meet some resistance, taking heavy casualties in clashes with young Somalis at Mood Moode, Daynuuna, Idale, and Bandiiradley.

But the vast superiority of Ethiopian arms – supplied over the decades by the US, Russia and Israel – meant that they easily won in set piece battles. Now they have taken the capital Mogadishu and the UIC's stronghold in Kismayo.

However, the war may be far from over. The UIC fighters cannot openly confront tanks and planes but, as the US discovered in Iraq, irregular resistance can be very effective against unpopular occupiers.

The new government will rely heavily on Ethiopian support. The warlords who will now return to power have little popular base and can survive only with external backing.

And the US's green light to Ethiopian expansion could tempt Meles to renew pressure on Eritrea – the two countries came close to war last year.

Regime

If the Somali people turn strongly against the new regime it will be left battling its own people – a battle it may well lose.

One of the first areas of Mogadishu seized by the invading Ethiopians was the site of the former US embassy compound. The US was driven out of Somalia in 1993. US troops, backed by the United Nations (UN), had carried out a "humanitarian intervention" which was claimed to be about ending famine and violence.

Many of Somalia's people initially welcomed the US, but they were soon disillusioned. The US and its UN allies shot down demonstrators in the streets and were repeatedly shown to have carried out torture and murder. The population rose against the US and drove them out.

Ordinary people's interests have been submerged beneath the US's desire to ramp up its control of the Horn of Africa. US military planners have underlined how its base in Djibouti, presently home to 1,800 US troops, is hoped to be the centre of one of the "lily pads" from which mobile US forces can intervene in "hot spots".

Instead of dealing with Somalia's terrible poverty and the present flood emergency, resources have been poured into arms and war.

The Stop the War demonstration on 24 February will not just be about Trident and Iraq – but also against the way imperialism devastates areas such as East Africa.

© Copyright Socialist Worker (unless otherwise stated). You may republish if you include an active link to the original and leave this notice in place.

Reprinted from:
www.socialistworker.co.uk/article.php?article_id=10416

Updated: January 06, 2007

Also Read:

Death and Destruction for Somalis
For the average western person, the current Ethiopian invasion of Somalia is just another military operation taking place in a distance land in the war against Islam terror. For Somalis, this invasion is nothing short of humiliating catastrophe.

A New War in Africa
The misconception was the US government's belief that the Islamic Courts, local religious authorities backed by merchants in Mogadishu who wanted someone to curb the warlords, punish thieves, and enforce contracts, were just a cover for al-Qaeda. So the US instead backed the warlords who were making Somalis' lives a misery.

America's new puppet
By its ill-judged invasion of Somalia, Ethiopia has become an accomplice in Bush's war on terror

U.S.-Backed U.N. Resolution Risks Wider War
WASHINGTON, Nov 28 (IPS) - Fearful that Islamist forces are transforming Somalia into a safe haven for al Qaeda, the administration of U.S. President George W. Bush is pushing a new U.N. Security Council resolution that experts here believe could well spark a wider war in the Horn of Africa.

Somalia: New Hotbed of Anti-Americanism
The U.S. foreign policy blundering has created a new violent hotbed of anti-Americanism in the turbulent Horn of Africa by orchestrating the Ethiopian invasion of another Muslim capital of the Arab League, in a clear American message that no Arab or Muslim metropolitan has impunity unless it falls into step with the U.S. vital regional interests.

Anti-Ethiopian protests rock Somali capital
Somali police killed a man in an exchange of fire with a crowd protesting against Ethiopian troops and a government disarmament drive in Mogadishu, an official said, as residents fear a return to clan violence.

Incidents in Somalis protest against Ethiopian troops
Ethiopian soldiers fired in the air to disperse crowds who chanted "Down with Ethiopia" as hundreds of Somalis marched through Mogadishu on Saturday.

Somalis warily adapt to changing capital
Some residents bemoan ouster of Islamic forces
By Stephanie McCrummen, Washington Post
Among the first things Mohamed Abtidon did when the Islamic Courts movement came to this city in June was to buy a fancy cellphone, a slim $360 Motorola. Streets once ruled by thieving, bribing warlords finally felt safe, he said, and he walked around talking on the phone with abandon.

Ethiopia: Meles Zenawi's Delusions of Grandeur
Sophia Tesfamariam, January 5, 2007
The Tigrayan minority regime in Ethiopia, which waged an unprecedented propaganda campaign exalting its prowess and might as it conducted its illegal war of aggression and invasion against the Union of Islamic Courts militia using various pretexts, including "defending Ethiopia's sovereignty", "routing terrorists", "crushing extremists", etc. etc. in violation of international law, UN Security Council Resolution 1725, the African Union Charter and boasting of "victory against Islamists", now wants the "international community" to bail it out of its self made quagmire and finance its illegal occupation of sovereign Somali territories.

Visit the Somalia's Crisis page at:
www.africaspeaks.com/somalia