The Origin of the Palestine-Israel Conflict

Prof. Sir Hilary Beckles Speech To British House Of Commons
CARICOM Reparations Commission calls for Reparatory Justice for the crime of slavery in presentation to UK House of Commons

The Case for Reparations
Two hundred fifty years of slavery. Ninety years of Jim Crow. Sixty years of separate but equal. Thirty-five years of racist housing policy. Until we reckon with our compounding moral debts, America will never be whole. By Ta-Nehisi Coates

Polygamy in Africa has little to do with sex msafropolitan.com

Who Was Jim Crow?

Cosmetic Surgery To Look Whiter Fails To Boost Women's Self-Esteem

Ohio School Apologizes After Attempting To Ban 'Afro-Puffs' And 'Twisted Braids'

The Dark Truth About Why South Africa Destroyed Its Nuclear Weapons in 1990 Mawuna Remarque Koutonin

'No shot, no ticket': Ethiopians decry Israeli birth control policies

More...


Emancipate Yourself...
August 11, 2014 : By Corey Gilkes
Years ago, the late economist and social thinker Lloyd Best pondered over the question of how does one save a culture from itself. This is a question we have not collectively dealt with as we continue to entangle ourselves more and more...

Why Our Black Political Class is Paralyzed and Silent on Gaza Massacres and Israeli Apartheid
July 28, 2014 : By Bruce A. Dixon
The silence of our numerous and powerful US black political class, not just on the current massacres of civilians in Gaza but on the incontrovertible fact that Israel has become a full fledged racist ethnocracy is deafening.

Airliner Shot Down 'By Mistake'...
July 23, 2014 : By Jon Queally
New comments from high-level U.S. officials and portions of declassified intelligence information released on Tuesday indicates—contrary to earlier comments by U.S. Secretary of State John Kerry...

What Did US Spy Satellites See in Ukraine?
July 20, 2014 : By Robert Parry
The U.S. media's Ukraine bias has been obvious, siding with the Kiev regime and bashing ethnic Russian rebels and Russia's President Putin. But now the shoddy journalism has grown truly dangerous, says Robert Parry.


More Articles:

Shopping
Amazon Store
♦ African Books
♦ Contemporary
♦ Trinidad/Tobago



Rwanda and the New Scramble for Africa: From Tragedy to Useful Imperial Fiction
by Robin Philpot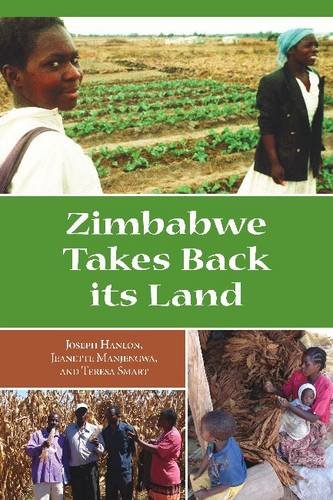 Zimbabwe Takes Back Its Land by Joseph Hanlon, Jeannette Manjengwa, Teresa Smart



Zimbabwe's Land Reform: Myths and Realities by Ian Scoones et al